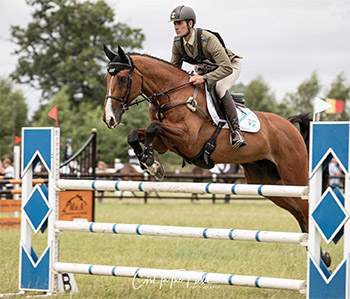 The horses were all on excellent form over the weekend at Aston, where the ground was superb despite the hot weather and lack of rain.
On Saturday Kathryn rode Cloud K in the 8&9yos advanced. A great run saw them finish with a 33 dressage and a steady double clear.
The following day the team was back with four intermediate horses. Firstly Jo and Philip Hunt's Duke of Champions had a steady double clear ahead of Hartpury 4*S.
Mary Bathurst's Duke of Champion (confusing, I know) had his first run back since his break. He scored a 27.5 dressage but was unlucky in that one of the show jumps blew down in front of him, resulting in a bit of distraction and a resultant two fences down. But he finished with a lovely cross country clear.
Karen Rausing's Swirly Temptress had a good dressage for 27 then just one down show jumping. She was withdrawn before cross country as planned ahead of her 4*S at Burgham next week.
Tissy Van Reyk's Kimbal had an educational day with a little blip cross country – but he performed a good dressage test, jumped nicely and took on his second intermediate track well. He heads to Burgham next week for the 3*S.
Gio & Duke of Champion © Sophie ~ Girl In The Field