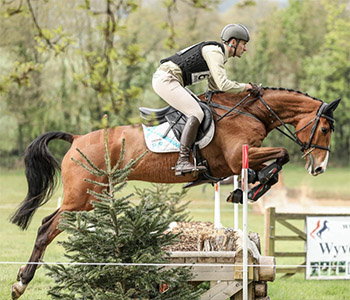 Duke of Dree Boeken put his best hoof forward last weekend, to win his novice section on a 26.5 dressage score – the horse's first affiliated win.
Alvescot Flash The Cash (pictured) finished fourth in the same section, again with a (30.0) dressage score finish.
Kec Malties Trend stepped up to novice level, with a cross country clear but couple of rails down showjumping to finish mid-field. Meanwhile, Elixir had a green moment across country for 20 penalties but left all the coloured poles up.
Finally, running at BE100 level was Mickleholme Diavita who was making his affiliated debut. A clear inside the time across country and just one rail down left him in 11th place.