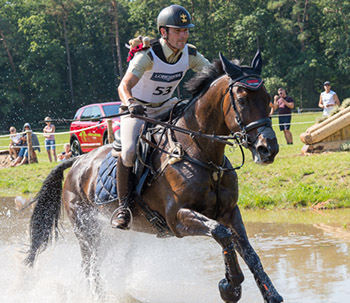 Giovanni and Note Worthy were representing Italy at this year's European Championships.
Their campaign started well with a 33.3 dressage score. The pair then had a fabulous ride across country, coming home clear and just two seconds over the optimum time.
Unfortunately it wasn't the end that Gio was hoping for – Note Worthy had an expensive show jumping round, but as his rider said: "So today the showjumping didn't go as I hoped, with that being said I would like to concentrate on the positives & say how proud I am of Spud, although not the ending as we hoped for, he was amazing all week, especially yesterday on a testing XC track.
"He will now head home for a well deserved holiday. It's been a huge team effort to get him here & I'm incredibly grateful to everyone's support from team Italia, to my girls at home, vets, physio, farrier, chiropractor, all my owners & sponsors & especially to my amazing wife who has looked after Spud & had him looking amazing all week!"
The best news is that Italy have now qualified for Tokyo 2020 Olympics.
Photo © Trevor Holt