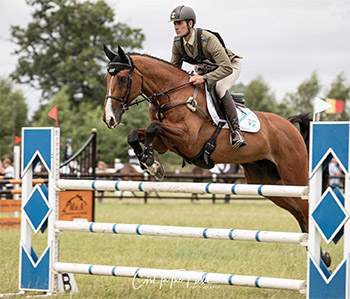 The team had a brilliant week in Millstreet with five horses last week, and all were impressive.
Mary Bathurst's Duke of Champion ran in the 4*L. He did a lovely test for 26 leaving him in 3rd after this stage. He then ran very well cross country, but had some time due to the twisty course which he found difficult to go fast around. He finished well on the final day, having three down but jumping very well otherwise. Gio was delighted with how hard he tried all week. The pair finished a creditable 14th
Gio & Kathryn's Cloud K represented Italy in the Nations Cup, posting a 31.8 dressage followed by a double clear with some time to put in a good result for the team. Italy finished 5th in the team event, getting important points for the Olympic qualification while Cloud K was 17th out of over 70 starters in the full 4*S listings.
Karen Rausing's Swirly Temptress was back on top form in the 4*S doing a 28 dressage, two poles jumping, then flying round the course feeling fantastic on the cross country. She finished hard on the heels of Cloud K.
Round the same track, Louise and Harriet Burton's Billy Hennessy was very impressive in his second 4*S, trying hard in the dressage for a 35, two green poles show jumping, and finishing with a great cross country round building lots of confidence for the future.
Last, but by absolutely no means least, Jo Preston-Hunt's Florencina R won the 3*S having led from the start with a dressage of 27, and a double clear with some time penalties. Gio is hoping to step the mare up to 4* in the next few weeks – he is very excited for the future with her.
Gio & Duke of Champion earlier this year © Girl in the Field