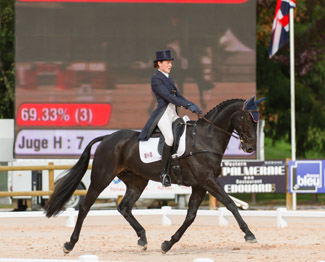 We went to Pau for the CCI**** with Let it Bee. It was a long trip but on the way there everything went well.
After a day of rest Bee trotted up really well on the Wednesday and did his test on Thursday morning. He was calm and relaxed in the trot and the scores on the big screen were looking promising (69%). In the canter he was good overall but his changes are not consistent yet and the score dropped down a bit to 60 penalty points by the end. We are happy with him considering that was his first four star test.
The cross country was a true four star track; long [11:50], technical and big. Bee was amazing until he failed to understand an Owl Hole going up hill and Kathryn hit her left shoulder on the side of the jump and slide off backwards. It was a shame but we know now that he is a real four star horse and we are looking forward to next season!
The journey back was a nightmare!!!!!! We arrived in Calais early in the morning on Sunday, but the weather was really bad and the wind too strong so no horses were allowed on the ferry. We found stabling in Calais and only managed to get back home on Monday night!
Photo © Trevor Holt