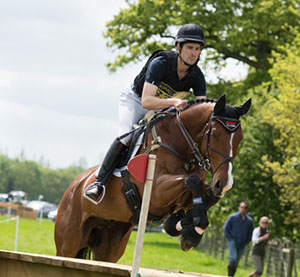 Swirly Temptress put her best foot forward for Giovanni to post her first affiliated win in a BE100 section. The mare added just 0.4 of a time penalty to a smart 26.0 dressage score.
Kathryn also finished in the ribbons riding Brookpark Momentum. Despite a rail down, a good dressage and fast cross country clear in the BE100 left the pair in 3rd. Meanwhile Castello stepped up to BE100 and jumped another double clear on the trot with Kathryn, which bodes well for the future.
Giovanni also had a good ride on Duke of Champion who jumped a double clear around the intermediate tracks, although Gio took it steady which kept them out of the ribbons. Less happily Gio missed his showjumping slot on The Chocolate Musketeer, but was allowed to run HC jumping the AI showjumping.
Gio & Duke Of Champion © Trevor Holt