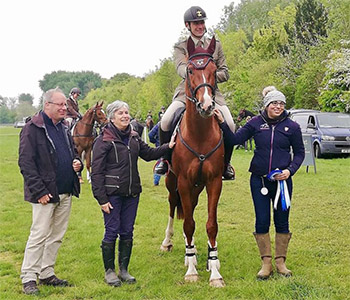 Obos Cooley jumped a great double clear for Giovanni in the open intermediate, following a 28.0 dressage score to take 6th place in his section. Swirly Temptress, meanwhile, was running in a straight intermediate and, but for a rail down, would also have been in the ribbons – instead she had to settle for 11th place.
Kathryn had three runners in BE100 sections. Belline Diamonswatch finished on his dressage score for 6th, No Rush One also 6th with a rail down. Finally Cloud K was just out of the ribbons in 12th, also with a rail down.
Kathryn then had Castell 236 in the novice. A double clear and 27.0 dressage score meant 5th place for them.
Star of the weekend was Headleys Deluxe (pictured), enjoying his first show to finish 2nd in the 4yr old BYEH class and qualifying for the final at Burghley.