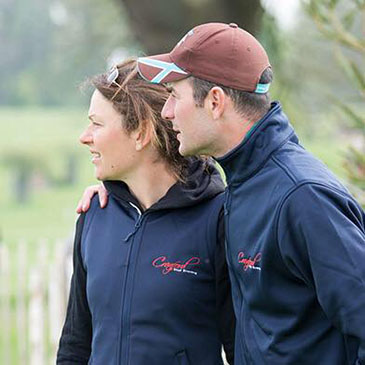 Giovanni progressed up the levels in Italy, finishing 4th in the Italian Junior Championships in 1999.
From 2002 - 2007 he was a member of the Italian Army Equestrian Team before coming to England in May 2008 where he worked for Andrew Nicholson and rode young horses for Tristram Owers.
In 2008 he placed 1st and 2nd at Hartpury CCI* and won the Pau CIC2*. Two years later he finished 5th at Saumur CCI3* and 12th at Pau CCI4*, taking the prize for the best first timer; the following year he finished 11th at Boekelo CCI3* and in 2012 placed 15th at Saumur CCI3* in 2012.
2013 was a great season for Giovanni, with an 8th at Chatsworth CIC3*, 5th at Tattersalls CCI3*, 15th in the British Open Championships and 16th in the Blenheim 8/9YO CIC3* Championships. To top it all, he and Stilo Kontika represented Italy at the European Championships in Malmo, jumping double clear for 25th place.
Giovanni & Stilo Kontika retained their place on the Italian team for the 2014 World Equestrian Games in Normandy, finishing 22nd individually. Then, in 2105 Giovanni and Oplitas won the CCI3* at Ballindenisk which helped to earn them a place on the Italian squad for the 2015 European Championships at Blair Castle.
The following year they completed their first Mitsubishi Motors Badminton, and were named as first reserves for the Rio Olympic Games. Giovanni finished his 2016 season with a double clear at Boekelo on CCI3* first timer Cult Rewind.
In 2017 Stilo Kontika came out on great form, taking 8th place at Tattersalls CIC3* and 9th at Burgham at the same level. Meanwhile Cult Rewind's double clear at Millstreet CIC3* was good enough for 16th place. He then went on to finish 16th at the Blenheim Palace CCI3*.
The younger horses were also stepping up to the mark, Duke of Champion 4th at the 7-year-old Young Horse Championships and winner of Montilibretti's CCI2*. Dacapo 277 took 6th place in the CIC3* at the same event.
Giovanni returned to Badminton in 2018, Cult Rewind posting a cross country clear round and 26th overall placing. Youngster Penhill Celtic was clocking up good results, including a CIC1* win and 12th place in the six-year-old championships. Cosmos Baby's double clear at Blenheim CCI3* left the pair in the top 15.
Ballindenisk 2019 provided a CCI2*S win for Swirly Temptress and 7th place in the CCI4*S for Duke of Champion, followed by a 10th place at Mallow's CCI4*S, one place behind stable mate Note Worthy, who also finished 8th at Cappoquin. As the season drew to a close Duke of Champion was 5th in the Blenheim Palace 8/9 year old championship and Swirly Temptress 3rd at the CCI3*S Young Horse championship.
2020 was 'Covid year', full of cancelled events, but did end with a CCI4*L 6th place for Simply Sox at Strzegom.
Kathryn was a keen member of the Woodland Pytchley Pony Club where she went through the Pony Club tests and competed regularly. She came back to competitive riding after she finished A levels and a University Arts Foundation course, starting her eventing career at Sam Albert's as a working pupil. She then went on to work a season at Roger Charlton race yard and also a season at Alan King; both were very educational.
In 2010 Kathryn placed 3rd in the CCI1* at Houghton, and 4th and 11th in the CCI2* at Osberton. The following year she represented Canada at the London Olympic Test Event in Greenwich, jumping triple clear, leading to her being short listed for the Olympic Games.
2013 was a good year for Kathryn as well as for Giovanni. She placed 12th & 15th in the CIC3*s at Tattersalls and Chatsworth, before finishing 11th in the Blair Castle CCI3*. Her form continued in 2014: 9th at Chatsworth and 10th at Hartpury CIC3*s and then finishing the season with a 7th place in her first CCI4* at Pau.
In 2015 Kathryn & Bee were 21st in Belton Park's CIC3*, also completing Aachen CICO3* and earning their first team selection, riding at the Pan Am Games. In 2016 Kathryn achieved her long held dream of riding at Badminton, Let It Bee jumping a double clear. With a 15th place at Barbury CIC3*, Kathryn and Bee were on the plane to Rio and a first Olympic Games.
Let It Bee's form continued in to 2017, with an 11th place at Tattersalls CCI3*, followed by 15th at Burgham and 5th at Millstreet CIC3*s. He finished the season 12th in the CIC3*ERM. Sadly it was to be his last season, and Kathryn's competition entries were less frequent the following year.
Kathryn's focus switched to producing youngsters, and good placings were the order of the day. She stepped back for the first half of the already interrupted 2020 to give birth to Finn but, like Gio, had a good end of season result at Strzegom, where Cloud K placed 6th in the CCI3*S.