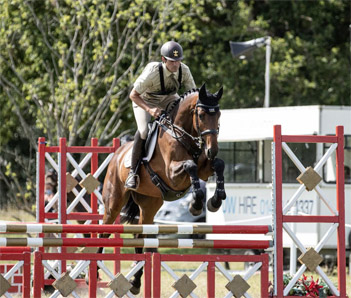 Florencina R did a good test and show jumped clear at Burgham to be lying in third place going into the cross country. Unfortunately she was given 15 penalties coming out of the water, disappointing given how well she tackled the course.
Swirly Temptress just had a quiet run round the open intermediate ahead of the Europeans.
It was then a quick turn around and on to Dauntsey with the young horses. Susan Osborne-Allen and Michele Moor's Monbeg Rhodes won the BE100 on his dressage of 23.3.
The Spalding Family syndicates Mickleholme Calado did a lovely dressage in the BE90 for a 23 followed by a good showjumping round and cross country with a green 20 penalties early on in the course to finish just outside the top ten.
Our own Cranford Wizardry ran in the BE100 doing a sweet test and a clear show jumping.
Photo © Girl In The Field