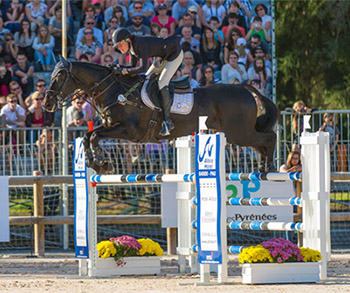 Our last event of the season, Pau CCI**** for Kathryn and Let It Bee.
We knew that Bee was in good form and he had a great build up to this event, but when you are talking about a 4* you probably never feel prepared enough. His dressage was on Friday afternoon and was by far his best one at this level. He stayed calm and rideable and Kathryn rode him beautifully to score a 50.5 to put her in 15th place after dressage.
The XC was a true 4* track and a big test of stamina for horses and riders. Bee again was amazing to jump a lovely clear round, adding just 18.4 time faults to his dressage score to put him in 8th place after day two.
The show jumping on the third day was big and technical. Bee jumped a classy round but had two unlucky rails down. He finished 7th in a really competitive field. We can't be more please with him and he can now enjoy a well deserve holiday.
Photo © Trevor Holt