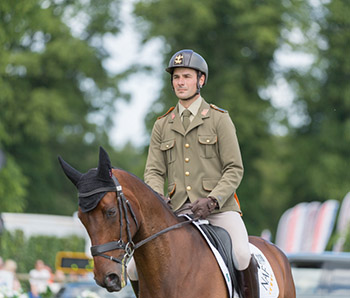 The Italian federation has named the final short list of riders it will be sending to Pratoni, with the final designations for team and individual spots to be announced by the definite entry deadline of September 5.
Gio is amongst the five riders named:
Giovanni Ugolotti and Duke of Champions – 11-year-old Oldenburg gelding (Duke of Hearts x Nebraska 22, by Noble Champion), owned by Phillip Hunt, Jo Preston-Hunt, and Joyce Snook, or Swirly Temptress – 10-year-old British-bred Sport Horse mare (For Ladies Only x Betty Barclay, by Brentano 11), owned by Karin and Kristina Rausing.
Exciting times!
Photo © Trevor Holt